How SBF Conned the World
The downfall of the once renowned crypto king
If you're new here and you'd like to read one newsletter a week that will blow your mind, subscribe below.
Last year, Sam Bankman-Fried (SBF) had a net worth of over $20 billion.
He was just 30 years old and already one of the richest people in the world.
A year later, he's now in jail, and his net worth is effectively zero, having lost billions worth of value.
I'm not really interested in exploring the technical aspects of the blowout, it's already well-covered.
I'm interested in learning how SBF fooled so many smart people, from institutional investors to world-renowned celebrities.
I mean, who doesn't love a good con artist?
A quick disclaimer before we move forward:
I actually wrote some articles for FTX last year. They were mostly educational articles and trade pages, but I never worked with someone from FTX. I worked with a popular marketing agency that was contracted to create content for them.
I even did some tasks for them a week before the blowout. Luckily for me, I got paid a few days before FTX went to 0.
How SBF Conned the World
Source: The Gaming Portal
If you're a con man, you need a great origin story that helps people buy into your persona.
As I discussed in the previous article, cult leaders (and con men, for that matter) build a great narrative.
And boy, did SBF create a great narrative.
Here are the steps he took that made him a world-renowned "entrepreneur:"
Step #1: Use your upbringing to increase trust.
Joseph Bankman, a Yale-educated professor of law at Standford University.

Barbara Fried, a Harvard graduate who worked as a professor of law at Standford University.
We are already off to a good start.
I mean, his parents are law professors, no way he will scam people in billions of dollars?
Step #2: Get a world-class education that boosts your credibility.
He graduated from MIT with a bachelor's degree in physics in 2014. At MIT, he was introduced to the idea of effective altruism (EA), which we will come back to later.
Back in 2013, he started working as an intern at the trading firm Jane Street Capital. He worked there for four years until 2017 when he started Alameda Research, a crypto trading firm.
In 2021, SBF said in an interview that he added the name "research" to avoid scrutiny.
"If you named your company like We Do Cryptocurrency Bitcoin Arbitrage Multinational Stuff, no one's going to give you a bank account. But everyone wants a Research Institute."
We can at least appreciate his honesty.
Step #3: Make a ton of money trading to launch your exchange.
Gif by SappySeals on Giphy
With Alameda Research, SBF made his first big bucks. He did an arbitrage trade where he bought and sold Bitcoin, compounding his money 10% a day, earning around $10-$30 million.
With that reputation (and capital) behind him, Sam launched FTX in 2019. He used Alameda as a market maker to fuel FTX's growth.
Basically, if FTX's customers wanted to buy or sell crypto, Alameda would trade with them even if it meant taking the losing side of the trade. That move helped him attract more users to the platform, and he was off to the races.
Step #4: Portray yourself as the Silicon Valley ideal to get the highest-profile institutions to invest in you.
Silicon Valley investors are attracted to the cult of personality. They love a good story. Specifically about a young guy who's super smart, a "distributor" making waves in a new industry. And Sam played the part brilliantly.
During his pitch to Sequoia, he was playing League of Legends. You would think smart investors who have put capital into companies like Apple, Instagram, and Airbnb would take this as a red flag, but they didn't. They saw it as a draw, so they invested.
But it didn't stop there.
Sam had two other elements that impressed Silicon Valley investors:
Creating a company with a young and lean team
You see this with Elon's acquisition (and layoffs) of Twitter. VCs love "small teams who create a ton of value." Sam had that in FTX.
The company reached almost a $30 billion valuation with less than 30 engineers. Most of the team was in their 20s, which again appealed to the Silicon Valley investors.
If you listen to a lot of founders and VCs, you'd hear a ton of talk about how bad regulations are. So Sam took note of that. He set up FTX in the Bahamas due to the lack of regulations, so he could "innovate, move fast, and break things," which was music to investors' ears.
Portraying himself as the Silicon Valley ideal helped him raise $2 billion from world-renowned investors like Sequoia Capital, Tiger Global, and BlackRock.
Step #5: Become the world's "most generous billionaire."
To conquer the minds and hearts of the masses, you can't be flexing your billions. People hate it. So Sam played the effective altruism card.
Effective altruism states that you should make as much money as possible and then donate your money to charity. SBF was an outspoken activist for the movement.
Sam even signed The Giving Pledge in June 2022, founded by Bill Gates and Warren Buffett. The goal of the pledge is for wealthy people to give half or even their entire net worth to philanthropy.
But according to his interview with Vox's Kelsey Piper, he said that his public views were all for the show, stating that they were a "dumb game we woke westerners play where we say all the right shibboleths and so everyone likes us".
Step #6: Cut deals to go mainstream.
Now that you're checking all the right boxes, it's time to go mainstream. And mainstream did FTX and SBF go.
They gave deals to everyone.
I was working in crypto media, and virtually 99% of news sources, from mom-and-pop blogs to huge newsletters and podcasts, took FTX's money.
But he wasn't going after only the crypto crowd, he wanted fame and fortune, so he cut some deals:
Kevin O'Leary got $15 million to be a spokesperson.

Miami Heat's basketball team renamed their stadium to FTX Arena.

MLB placed FTX's logo on the uniforms of their players.

Mercedes-AMG Petronas F1 Team added FTX's logo to their cars and merch.

The esports organization, TSM, became TSM FTX.

FTX had a massively successful Super Bowl ad featuring Larry David.

Sports celebs like Shaq and Tom Brady were promoting FTX.
Who helped Sam mingle with that many folks?
He's a Hollywood agent/investor who connected Sam Bankman Fried to a ton of influential people, such as:
Orlando Bloom

Katy Perry

President Bill Clinton

Leonardo DiCaprio

The governor of Saudi Arabia's Public Investment Fund.
In return, SBF invested $700 million in Mr. Kives' VC firm. Out of that investment, Mr. Kives got $125 million personally.
Step #7: Step into politics.
Now that you're that famous and "charitable," it's time to go into politics. Since 2020, he has been an active political donor. In 2020, he was the second largest donor to Joe Biden after Michael Bloomberg, donating $5.2 million.
In 2022, he continued with his spending spree. During the midterm US elections, he was again the second-largest donor to the Democratic party, donating over $39.8 million.
Publically, he was a Democrat. But behind the scenes, he was also donating to the Republican party using dark money channels because he was afraid of the possible outrage.
How to Avoid Getting Conned by the Next SBF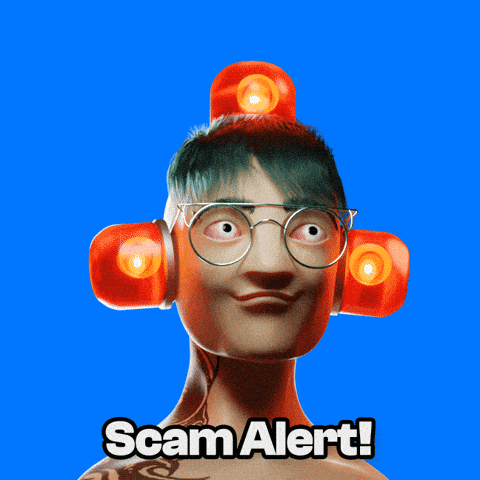 Gif by vibeheads on Giphy
One thing all of these folks (myself included) got wrong is that we fell for the cult of personality. "A young genius who's a generous billionaire out here to help folks."
Con artists like SBF take advantage of people's tendency to think in narratives. Instead of looking into the details, investors and celebrities took SBF's story (and, in some cases, money) and bought into him.
To avoid getting conned by people like SBF, you need to get your hands dirty and dig into the details of his story. In most cases, the story isn't as impressive as the con man makes it sound.